Section Contents...
click to see other pages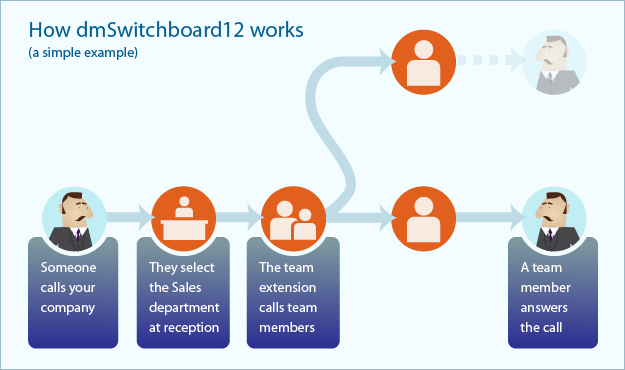 dmSwitchboard12 is a virtual switchboard designed to handle your company's phone calls: inbound, outbound and internal.
With its web-based interface it's easy to set up and control. It can be used both inside and outside the office, and is the first switchboard that allows VOIP and traditional telephony to be combined seamlessly.
Get dmSwitchboard12
Feature area
What it offers your business
Switchboard Control Plan
Complete and clear control of your call handling
Your switchboard's 'plan' controls how calls are handled, using a mixture of reception, team and personal extensions. Each extension can have a direct dial inwards (DDI) number allocated to it.
Message Taking
Capture the caller's business when you are unavailable
You can't always answer your caller, but each extension can take messages using voicemail or our plug-in human answering service, and deliver them to you within seconds.
Hunt
Parallel ringing, to optimal control of answering times and call distribution.
When you are busy with lots of calls it's important that you don't leave callers waiting too long. The team extension 'hunts' the available team members until one takes the call.
Caller ID + Enhanced Call Information
Better call presentation for a good connection
CallerID is essential to starting a call properly, whether you are taking inbound calls or making outbound ones. Enhanced Call Information shows how the call came through the switchboard, so that you can answer with the appropriate company and department greeting.
Open Hours
Appropriate call handling whether you are open or closed
Set a company wide default, then override on a per-extension basis as required.
AnyTalk
Freedom to use traditional and internet telephony, whenever and wherever
You have complete freedom to use internet and traditional telephony with your switchboard, giving the cost-savings of VOIP and the reliability of the PSTN network.
Plan Manager
and Editor
Agile, resilient switchboard management
Business call handling can be updated at any time through a simple and responsive web interface. When you introduce new business processes, or your company changes, your switchboard keeps pace.
VoiceOver
Greet and inform callers with your "voice" and brand
VoiceOver allows you to record your own switchboard scripts. If callers hear a friendly and relevant message more calls get through, and caller's are more inclined to leave voicemail when you're not available.
MidCall Menu
Makes good teamwork with phone calls easy
With the MidCall Menu you can transfer calls around your company quickly and effectively, or initiate conference calls.
WebPhone
Internet phone calls on your PC with zero setup
All extensions come with a free WebPhone, which allows you to take and make calls using your PC and a connected headset.
The buyers guide contains a more detailed feature list
Business benefits
dmSwitchboard12 will help your business to handle calls effectively, and ensure that as many calls as possible get answered.
With over 20 unique features, and all the features you expect from an enterprise-grade switchboard, dmSwitchboard12 represents the future of switchboards. In particular, it's the first system that gives you the freedom to combine VOIP and traditional telephony without restriction.
The features fall into ten broad areas, outlined in the table to the right.
How much does it cost?
Our pricing structure is transparent and easy to understand.
dmSwitchboard12
The dmSwitchboard12 Starter Pack costs £24.95 for setup, then £9.50 per month. This includes a phone number. Or you can buy it for £19.95 setup and £7.50 per month on its own.
If you want more inbound numbers or extensions these can be added at any time, and are charged per number and per extension. Finally, there is no long-term contract, so you can cancel your switchboard ay any time.
Outbound calls
All extensions can make outbound calls, and calls have easy-to-understand pricing.
All costs are quoted in pence per minute.
Destination
Cost
UK Geographic Number (landline)
1.25 ppm
UK Mobile Number
8.00 ppm
International Geographic Number
(in 2/3rds world)
1.85 ppm
International Mobile
(in 2/3rds world)
8.00 ppm
See calling costs on a country-by-country basis for the exceptions (mainly in the other 1/3rd of the world).
dmSwitchboard12 is easy to set up and control
Basic set up takes about 10 minutes. The starter pack comes with a free ProTime set up session, where one of our friendly experts helps you to get your switchboard up-and-running, assisting you in the creation of your first plan.
The web-based plan editor allows you to create and edit plans at any time. Set up extensions for receptions, teams and people, and configure their behaviour. Associate them with direct numbers, set opening-hours, and adjust how long an extension rings before a call is sent to voicemail or your answering service.
A dedicated support team is here to help
If you don't understand something, or something goes wrong, our support team is here to help.
Telephone and email support are available, in addition to web-based video tutorials, helpful notes, and trouble-shooting guides.
100% of support calls are answered by people
95% are answered within four rings
90% of problems are resolved by the same support person that answers your call
100% of support emails are answered within 4 working hours